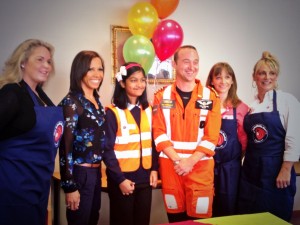 It's early morning on 18th September and I arrive at New Spitalfields Market, Leyton, London ready for the launch of Popadeli. Yes we have finally reached this stage where the website has been 99% finalised to stage 1.
Finally after months of sweating over the night light, the midnight candle and developing little ideas that could go into the website, the nooks and crannies of all the rooms and the characters that take up the main stage. The day was planned with a school visit, press launch, visits from the Children's Air Ambulance and Dame Kelly Holmes. Try it out for yourselves: Popadeli website
The publicity was great, Dame Kelly Holmes chatted with me about the illustrations and the children were intrigued by how I created the illustrations. I'm in the process of adding in the development sketches of the creation of the winning character Rad Ratabaga by Noshin.
Here are just a few articles which were written and published about the day.
Children's Air Ambulance article